Brief History of POK – Pakistan Occupied Kashmir
Some part of Kashmir is under Pakistan control.
First, lets see what is Kashmir, which could risk this world a THIRD WORLD WAR.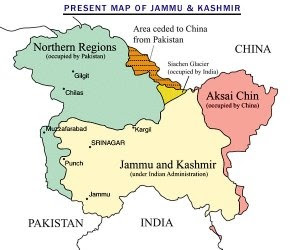 POK- It is Pakistan occupied Kashmir(Green).
INDIA J&K STATE- Indian Administred Kashmir (light yellow).
CHINESE INTERVENTION- Aksai chin area of ladhak region(light red).
SIACHIN GLACIER- controlled by India.
AREA CEDED TO CHINA- In orange,this region is sold by Pakistan to China.
Now, we know that this dispute is among three countries-
a. INDIA
b. PAKISTAN
c. CHINA
Though, China is right now a mute spectator but will surly enter dispute in the right time. The main contention is between India and Pakistan.
ISSUE: Paksitan wants Kashmir to join its country.
LEGAL AMBIT: State of Jammu and Kashmir, has signed Intstrument of Accession with India by the-then King Raja Hari Singh.
HISTORY-
The state was created in 1846 from the territories previously under Sikh empire after the First Anglo-Sikh War. The East India Company annexed state into,
Kashmir is believed to be named after one of the Sapt-Rishis of India- Rishi Kashyap.
DURING PARTITION OF INDIA-
Kashmir was the Princely state, like anyother princely state, it had been given a choice to either join India or Pakistan or form a seperate country.
Kashmir wanted to be seperate Independent state, though Pandit Jawahar lal Nehru and Sardar Vallabh Bhai Patel wanted Kashmir to be part of India.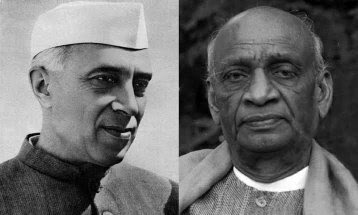 As Kashmir is the land of Kashmiri Pandits, and Jawaharlal Nehru was also a Kashmiri Pandit. But Raja Hari Singh was adamant about becoming a seperate Independent state. India agreed and focused its energy to obtain other princely states.
After the decalartion of Kashmir being a Independent state, Pakistan attacked over Kashmir. Raja Hari Singh was shocked by the deception of Pakistan, and failed to protect the state Kashmir as Pakistan almost obtained Srinagar(capital of kashmir).
Raja Hari Singh, asked India for help, our the-then MINISTER OF HOME AFFARIS Sardar Vallahbhai Patel, mentioned to him that India fights its own war. Kashmir wanted to be a Independent state, must know how to protect itself.
Than, Raja Hari Singh agreed to join India. Army of India drag back Pakistani forces, but due to the undisclosed reasons, didnot draw them back to there boundries and a region of Gilgit-Baltistan-mufazfarabad etc. Remained in the control of Pakistan.
Which is today knows as PAKISTAN OCCUPIED KASHMIR(POK).
DEMANDS OF RAJA HARI SINGH-
Protection of land of Kashmiri tribals, therefore by Amendment article 35 sub-clause (a) was added in the Constitution of India. That state legislature will decide who is the citizen of state.
Autonomus status of Jammu and Kashmir, article 370 of the Constitution of India which allows J&k to have its own Flag, constituion etc.

Flag of J&K.
INDIA-CHINA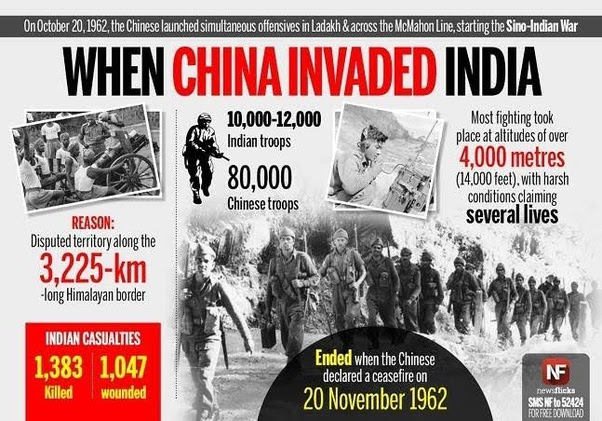 . In 1962, China and India fought a brief war in Aksai Chin and Arunachal pradesh but in 1993 and 1996, the two countries signed agreements to respect the Line of Actual Control agreement.
Since than, China has the Aksai chin area of Ladhak.
WAR OF 1971-
Bangla people was fed-up by the behaviour of West-Pakistan
Urdu had been imposed on them
Second grade citizen behaviour( terms like"bhookha bangali" 'Hungry bengali')
No involvement in the matters of East-Pakistan.
Bangla people seeks libreation, which India helped them to accquire. But the turning point was the
SHIMLA AGREEMENT In 1972.
India and Pakistan signed an accord declaring that KASHMIR IS A BI-LATERAL ISSUE . IT WILL BE RESOLVED INTERNALLY.
CONCLUSION-
INDIA donot want to distrub peace and harmony of the entire nation by forcefully capturing the POK area, which will result in military confrontration by Pakistan.
But Pakistan has started PORXY WARS, and RADICALISATION OF ISLAM to create dis-harmony in India.
In a 1965 speech to the UN Secuirty Council, Zulfikar Ali Bhutto declared a thousand-year war against India.
Pakistan Army Chief General Mohammad Zia-ul-haq gave form to Bhutto's "thousand years war" with the 'bleeding India through a thousand cuts' doctrine using covert and low-intensity warfare with militancy and infiltration. This Operatoon was given a name also " Tupac Operation".
MUHMMAD ZIA-UL-HAQ.
But majority of Kashmiri did not join it, making it a failed initiative, some of the youth has been Radicalised, but majority of them has rejected this apporach and knows the true face of Pakistan.
Soon, whole of kashmir will be united to India, as India is going to be a Super-power and diplomatic relations of India with world is getting stronger.
India is being recognised on the world map.