The Commonwealth Games Scam 2010
The Commonwealth games is world, multi-sport events involving participants from the Commonwealth of different nations. The games are described as third largest multi-sport event in the world after Olympic Games and the Asian games. Despite of all the success and the appreciation received worldwide by the media across the globe one thing which equally grabbed the attention of all is the corruption and the disturbance in the organization of the games, the commonwealth games was harshly criticized by many social activists and politicians as a big amount was spent in these games despite the fact that India has one of the world's largest population of poor people
Central vigilance commission released a report on 28 July 2010 showing irregularities in 14 cwg projects, in total 129 works in about 71 organizations have been inspected.
PM Manmohan Singh on October 25 appointed a high-level committee to look into alleged corruption and defaulters in conduct of the event.
Main findings of the report are as follows:
Organizing Committee intentionally delayed contracts by not showing estimates for the 630 crores overlay contracts.
Organizing Committee could have saved Rs. 138 crore in overlays if it had negotiated
Chairman (Suresh Kalmadi) appointed Loyalists in Key positions, particularly a large number from Pune including a railway guard.
Employees and consultants and advisors were hired on criteria other than merit.
Candidates with questionable background were accommodated, especially at senior positions with decision-making powers.
Chairman asked Government for an extra Rs. 900 crore in August 2010 when there was no need for additional funds.
The Committee kept hiding a revenue neutral position to justify extravagant spending.
Consultants, including Shashi Tharoor, were hired at terms dictated by them.
Contract for timer board issued by Lalit Bhanot's office without informing technology consultant or technology head.
Chairman kept the Executive Board in the dark about detrimental aspects of SMAM contracts.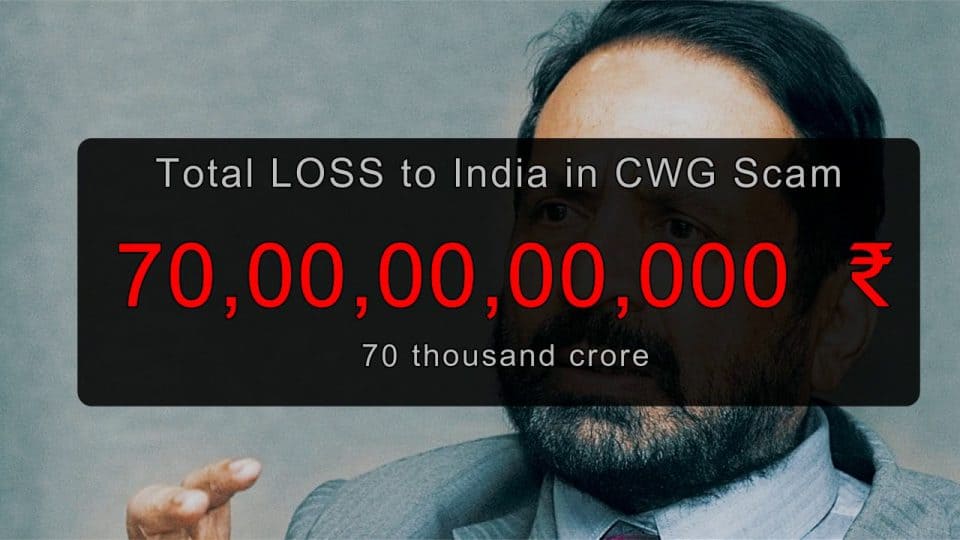 The Commonwealth Games scandal unfolded in 2011 which is one of India's biggest scandals. It is believed as the Commonwealth Games scam was held in New Delhi in 2010 Commonwealth Games involved massive rigging of money during the preparation phase and conduct. The total value of this scam is estimated to be Rs 70,000 crore.  The scandal has come to name Suresh Kalmadi, the immediate president of the Commonwealth Games Organizing committee and his colleagues. In connection with this scam Suresh Kalmadi is jailed these days. Kalmadi is accused of presenting the amount spent in the game Ayojajan on the carried. On the Commonwealth Games of 2010, Rajya Sabha MP Mani Shankar Iyer consistently took over the target of his government and criticised the game.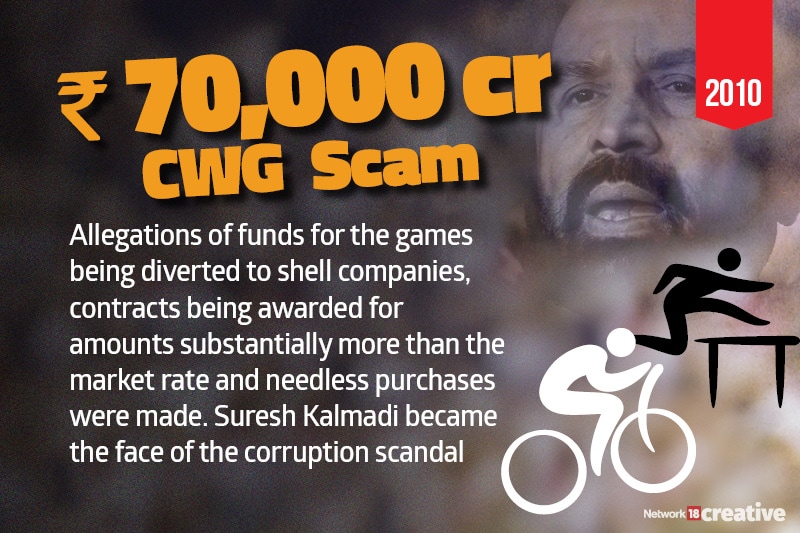 Parties Involved
Like any other scandals it involved politicians, bureaucrats and corporates acting in collusion.
Politician Involved
Suresh Kalmadi, a Congress party representative for the 15th Lok Sabha from Pune constituency and chairman of the organizing committee of Delhi Commonwealth Games.
Sheila Dixit Mukhayamautari of Delhi: She was prompted for multiple irregularities in Commonwealth sport processes by the Shugaluu committee and the CAG, both.
Roberot Vadra
Bureaucrat Involved
Lalit Bhanot, Secretary general of the Organizing Committee
T S court, joint Director General of Organizing Committee
Sanjay Mahidaru, Deputy director General of the Organizing Committee
BS Carnation, CEO of dissemination Bharti
M. Jayachadaran, joint Director general (Lake and finance)
Incorporated Corporation
A. M films
A M cars
SS Live
The corruption of JP Sayyaf, alleged to have been erected here through the financial involvement of Suresh Kalmadi's son, Sumir Kalmadi, at the F one circuit project in Greater Noida.
M T N l
Dele Infosistmus
Saveka Povertech Engineers Pvt. Ltd.
Businessman Involved
R. S. P. Sinha, Ematatienel cmd
S. M. Sword, Executive Director Ematatienel
N. A. Jain, G m (corporate sales) Ematatienel
Jitendra Garag, DGM Ematatienel
Vislabloaras Law Enforcers Agencies
The scam was also explored by CAG before organizing the games. The scam is currently being investigated by the CBI.
The Scam
Various contracts were Kalmadi and team-tampered and reportedly aviniyojit in huge quantities throughout the process.
Time Scoring Results System
Kalmadi has been accused of giving illegal contracts to a Swiss firm for a loss of Rs 95 crore to government coffers for the game-time scoring results system.
Queens Baton Relay
Apart from the ED before the construction check related to the game's overlay under the Dhanashodhan Prevention Act, the Commonwealth Games is looking to check the flow of funds and foreign currency during the Queens Baton Relay held in London. British authorities referred a talk about the hiring of London-based transport firm AMC cars and vans to make the Indian High Commission a similarly high payout for E M films at exorbitant prices and to install video screens at the venue after the enforcement Directorate case rate Jae Queens of Baton Relay.
Broadcast Network
The CBI Commonwealth Games registered another case in the scam and the HCL Infosistmus base to raise the cost of establishing a broadcast network for the sport by about Rs 400 crore in Talashi and Noida of Residences of Metropolitan Telecom Corporation Limited, or MTNL officials. It asked them to create a tailor for kaha bidder from the private company (HCL) as MTNL folded the specifications in this manner by manipulating the IPs at a greater cost of around Rs 570.12 crore. MPLS is accused of awarding the work of broadcasting network based on technology-Mishra said. Pararabhik estimates of broadcasting data transmission project for the jump extravaganza drama of the agency alleged the lot was limited with Arabhik estimate of Rs 31.43 crore, but MTNL officials resulted in building from Rs 380.04 crore to Lagat which IP-MPLS Based on technology, a broadcast video network was involved. Due to the damage to the treasury of this change under the CBI's direction, HCL has charged Infosistmus with the intention of generating huge economic returns.
Social and Environmental Impact
About 400,000 people from three large slum settlements in Delhi, have been sent to second place since 2004. Gautam consciousness, an Indian urban planner with University of California Berkeley, said that "the Commonwealth Games of 2010 have resulted in an unexpected increase in the scale of indiscriminate expulsion without degree, frequency and proper rehabilitation." We have not seen a level of expulsion since Apatakal in the last five years."
Written By: Suraj Srivastava / Ashish Singh