Jatayu – The Mythical Bird in Ramayana
In the epic Ramayana when Jatayu sees Ravana abducting Sita, he tries to rescue Sita from Ravana. Jatayu fought valiantly with Ravana, but as he was very old Ravana soon got the better of him. Ravana kills Jatayu.
As Rama and Lakshmana chanced upon the stricken and dying Jatayu in their search for Sita, he informs them of the fight between him and Ravana and tells them that he had gone south.
Jatayu and his brother Sampati, when young, used to compete as to who could fly higher. On one such instance, Jatayu flew so high that he was about to get seared by the sun's flames. Sampati saved his brother by spreading his own wings and thus shielding Jatayu from the hot flames. In the process, Sampati himself got injured and lost his wings. As a result, Sampati lived wingless for the rest of his life.
While Jatayu was wounded and lying on the ground when Lord Rama arrived, Lord Rama sensed the end result and decided that Jatayu gets moksha. Jatayu consoles the distraught Rama and reassures Him that no harm will come to Sita and that very soon she will be restored to them. Rama is as much overwhelmed by grief as by a surging sense of affection and gratitude and embraces Jatayu. He asks Jatayu to be comfortable and blesses the bird. Rama says that the grief of seeing Jatayu pass away is greater than the loss of Sita. He considers Jatayu as equal to His father and proceeds to do the final rites for the bird.
You will certainly get mesmerised with Kollam's latest tourist attraction, the Jatayu Earth's Center that hosts the world's largest bird sculpture. Spanning over 65 acres across four hills, this is the State's first ever BOT (Build-Operate-Transfer) tourism.
The monumental statue of Jatayu resting high up the hill catches your attention even from afar on your way to Chadayamangalam in Kollam district. Jatayu is a legendary bird from the Indian epic Ramayana.
You can reach the hilltop using a cable car. A multitude of experiences await the traveller in Jatayu Rock. One such is the museum and the 6D theatre inside the sculpture. You can even have a hele-taxi experience from here!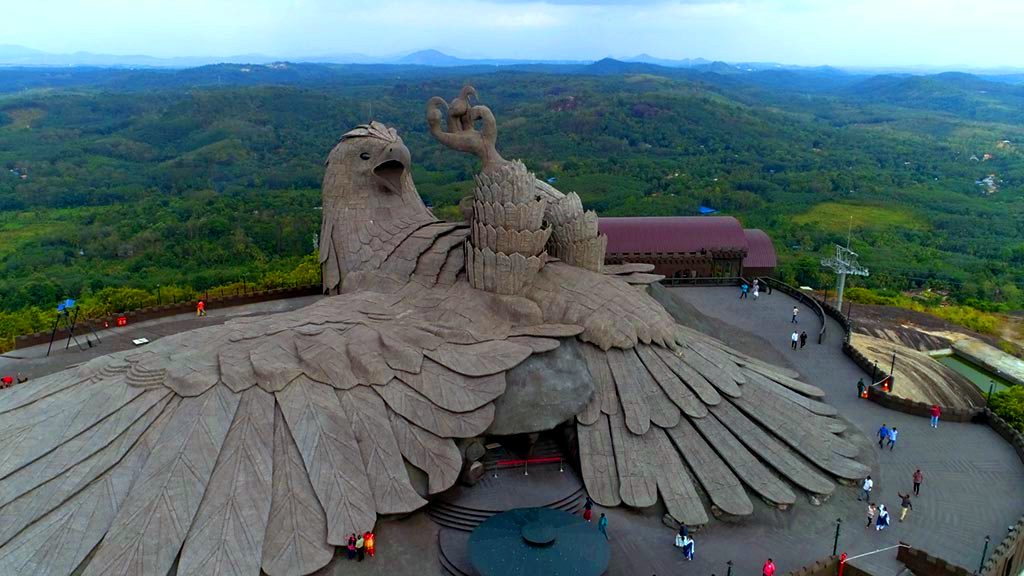 The sculpture is 200 feet long, 150 feet broad, 70 feet in height and has a floor area of 15,000 square feet. The museum will exhibit glimpses from Ramayana. One can also enjoy the bird's eye view experience from 1,000 feet above the sea level, from inside the sculpture. The adventure field in the park will have several options for activities like paint ball, laser tag, archery, rifle shooting, rock climbing, and bouldering. It will also house ayurvedic cave resorts.