Concealed in the backwoods of Tripura, Unakoti is essentially a journey site devoted to Lord Shiva, and is accepted to be 11-13 centuries old. While, in Tripura, infrastructural improvements may be barely streaming in, it is recognized for heaven like area on the Jampui Hills of North Tripura. Arranged around 178 kilometers from Agartala, the legacy site 'Lost Hill Faces' of Unakoti, is home to mammoth bass-alleviation figures cut out of an enormous slope. The tremendous models convey an inborn look and ooze nearly indistinguishable enchanted appeal from the hypnotizing figures in the Angkor Wat Temple of Cambodia. Unakoti which signifies "not exactly a crore in number" has a few found and however to-be-found models of Hindu divine beings and goddesses. Of all, the 30-ft-long cutting of Lord Shiva's head called Unakotishwara Kal Bhairav is the most respected of all.
Similarly as there is dependably a reason behind each impact in the Universe, there are a few fascinating legends related with the nearness of the figures of Unakoti. Legend has it that once Kalu Kumhar, an enthusiast of Lord Shiva and his heavenly companion Parvati, found the couple advancing toward the Mount Meru and communicated his longing to go with them to their famous homestead. Shiva, in any case, guaranteed to tag Kalu along just on the off chance that he could shape crore pictures of all the sacred divinities previously sunrise. Kalu worked with an unafraid soul at the same time, as destiny would have it, he neglected to shape only a solitary picture. Therefore, Shiva also, Parvati continued ahead to their home deserting Kalu. There is another form of this story, which bodes well, given its ethical subject.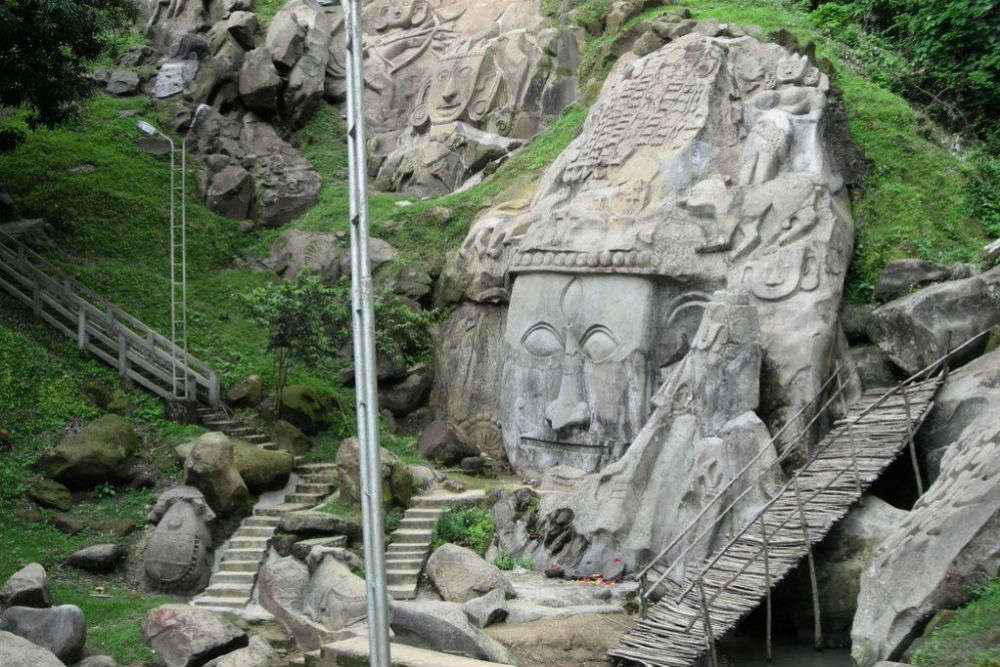 It says that Kalu was allocated the activity of cutting pictures of the divine beings in a dream. In any case, he wound up making the last figure of his own self, therefore, missing the mark concerning one picture attributable to his inconspicuous want for distinction. The lesson of Kalu's story is to abstain from falling prey to pride or sense of self.
Written By: Suraj Srivastava